Today I have a guest post from Narelle Atkins, an author of contemporary romance. I reviewed her debut novel, Falling for the Farmer, earlier this year on Iola's Christian Reads, and reviewed her second novel, The Nurse's Perfect Match, yesterday.
Narelle is published by Heartsong Presents, a Christian imprint of Harlequin Mills & Boon, and I was interested to know what support a first-time author gets from one of the biggest romance publishers on the planet.
Welcome, Narelle!
What platform did you have prior to the launch?
I have an author website, personal blog, Facebook profile, Facebook author page, and Twitter account. I also have a presence on Instagram, Google Plus, and Pinterest, although I don't spend a lot of time on these platforms.
I belong to three group blogs: Australasian Christian Writers (ACW), International Christian Fiction Writers (ICFW) and Inspy Romance. ACW also has a Facebook Group for writers and readers. ICFW members either live outside of the USA, or write books with international settings. Inspy Romance is a contemporary inspirational romance group blog based in the USA.
What activities did you undertake to launch your book?
I sent print books and electronic review copies to people interested in writing a review.
I set up a mailing list with Mail Chimp.
I organised a blog chase on my release day that started at the ACW group blog. Falling for the Farmer is a runaway bride story. I posed the question: If Kate (my heroine) ran away to …. what could she do? We had four blog stops in Australia, and two in New Zealand. Readers were asked a question at each stop in the blog chase, and they completed an online entry form for the book giveaway at the final stop on my blog.
Iola says: I was one of the hosts for the blog chase. You can find my post here: Falling for the Farmer Blog Chase
I organised a book review and author interview on two consecutive days during the release week on the ICFW group blog.
My critique partner's contemporary romance, True North, released the week before Falling for the Farmer. I interviewed Susan Diane Johnson on the Inspy Romance group blog, and we did a joint book giveaway.
I organised author interviews with book giveaways on half a dozen blogs in the USA, Australia and New Zealand.
I set up a print giveaway on Goodreads (US, CA, UK, AU, NZ) that was open for the entire release month.
I participated in a giveaway of Love Inspired and Heartsong Presents books on the Soul Inspirationz site.
I did a blog tour with Australian Christian Readers Blog Alliance (ACRBA) in March, a month after my book released. I sent print review copies to the ACRBA members who requested my book, and they posted their reviews on their blogs during the blog tour week.
I added a book launch post on my blog during the week prior to the book release, outlining where readers could find me online and enter the book giveaways.
I uploaded my book information into ACFW's Fiction Finder site.
I emailed my book release information to my writing groups, for inclusion in their member newsletters and/or blogs.
Okay. That's a lot of blogging. How long did it all take? How difficult was it?
It was time consuming, both the set up and execution. It takes time to write blog posts and answer interview questions. I had planned to focus my attention on book promo during the week of my book release. I spent time interacting with readers on blogs and social media.
The book launch wasn't difficult because I was organised. I set up a spreadsheet and put all the promo dates in my diary. Each day I knew what I was doing, and I allocated time to blog visit and interact with readers.
What support did you get from your publisher?
Harlequin sells their category romance titles through their direct-to-consumer Reader Service. I was blessed to have the opportunity to write an article for the February inspirational issue of Harlequin's Simply Books magazine. It's a free magazine that is mailed to their Reader Service subscribers with their book shipments. There are inbuilt marketing benefits for books that are published by a known brand.
How successful was the launch (and how do you define success)?
My primary goal was to meet readers and gain some name recognition. I was happy with the results, and I appreciated the support of my writing friends. I think it would be harder to launch a book without support in the writing community.
I haven't received a royalty statement, so I can't judge or measure the success of the launch from a sales perspective. Typically, an author gains readers with each new book release, and becomes more visible in the market place after their third book is released.
The frequency of my new book releases will help me find my tribe of readers. Not everyone will like our books. Different genres, plots, and characters appeal to different readers. I hope to connect with the readers who like my genre, writing style, and the types of stories I love to write.
What will you repeat for your next book launch? What will you change?
I'm launching my second book, The Nurse's Perfect Match, in May 2014. I'm not doing a blog chase or ACRBA tour with this book. An author can only tour a book once every 6 months with ACRBA (the tours are free), and I have an ACRBA tour booked for Her Tycoon Hero in November 2014.
I'm doing book giveaways on my personal blog and group blogs, and I've lined up a few blog visits with giveaways. In March I set up a Love Inspired Heartsong Presents Goodreads group with my Heartsong author friends. I'll be doing my first Author Q&A with the Goodreads group in mid-May. I have a Goodreads giveaway running for the whole month of May.
Falling for the Farmer, my first book, became available in April in my local Christian book store. I'm planning an in-store book signing at Koorong, Fyshwick in May on the Saturday before Mother's Day. Plus, a radio interview before the signing with local Christian radio station, One Way FM. (You can access the interview as a podcast by clicking this link.)
What advice would you give to other authors about to launch their book?
The importance of pre-planning can't be underestimated. Many blogs schedule their calendar months in advance. Many reviewers have a queue of books waiting to be read and reviewed. The ACRBA blog tours, especially the fiction tours, are usually booked out six or more months ahead of time.
If you're familiar with Excel, set up a spreadsheet to keep track of your book promotion activities and giveaways. I have a page for each book release. The spreadsheet helps me to stay on top of all the little details.
I recommend allocating twice the amount of time you'll think you'll need for your book launch. Make sure you factor in time to reply to everyone who comments on your blog posts, and contacts you on social media. I encourage authors to enjoy the experience, and cherish the opportunities to connect with other writers and readers during their book launch.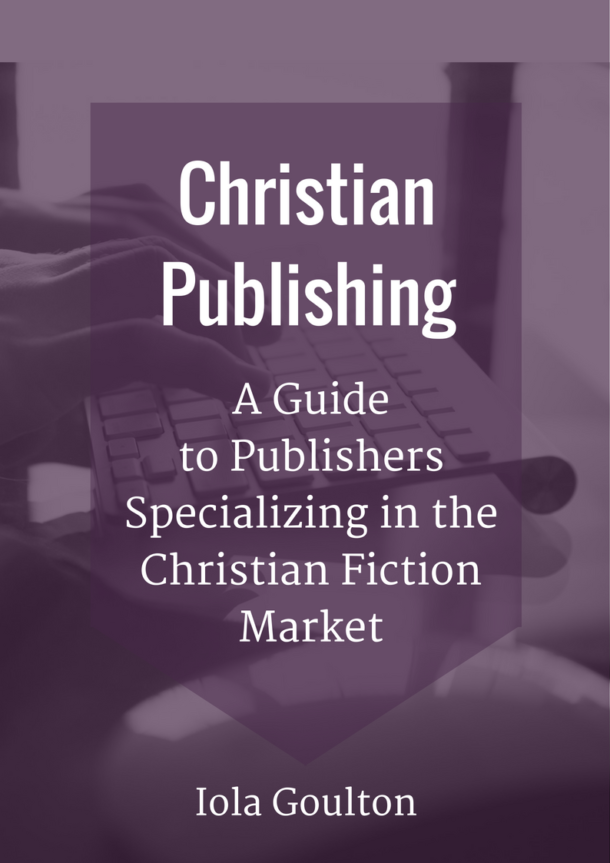 Subscribe to my monthly newsletter and receive an exclusive guide to publishers specializing in Christian fiction.
Sign up to my newsletter, and I'll send you monthly news and updates on writing, editing, publishing, and marketing, and relevant promotional material. I won't send spam, and you can unsubscribe at any time. Please read my Privacy Policy for details: www.christianediting.co.nz/privacy-policy