You've written a book.
Maybe more than one. Or maybe you're still writing.
You've connected with some writers, and someone has mentioned an author platform. But what do they mean? What is an author platform?
An author platform is any means by which authors connect with readers and sell books.
An author platform is important for traditionally published authors.
Agents and publishers want to publish books they know will sell (that's how they make money), and they want to publish authors who will contribute to marketing those books. An author platform shows traditional publishers you have an audience, and you understand you have a role in marketing your book.
An author platform is vital for self-published authors.
Self-published authors don't have the marketing power or distribution networks of the big traditional publishers, which means there is no one to help. Self-published authors have to connect with readers and sell their books themselves. That's where having a solid author platform comes in.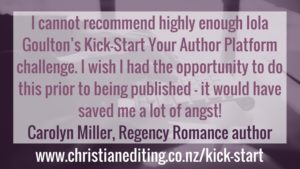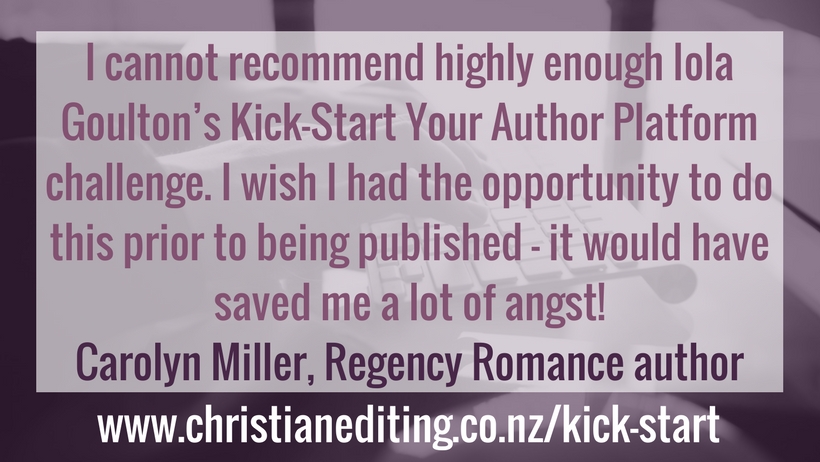 A good author platform will:
1. Attract potential customers
2. Engage with potential customers
3. Convert potential customers into actual customers
Platform is about connecting and engaging.
Not pushy selling—which is great news for all those authors who don't want to become spammy salespeople! (That is you, right?) When you do sell, it's to people you've connected with and engaged with, people who have given you permission to sell to them.
An author platform isn't something you can buy. It's something you have to build yourself … which means developing the skills to build your platform.
When should I start building my platform?
It's like planting a tree: the best time was twenty years ago. The second-best time is today.
My view is authors should start building their platform as soon as they decide they are serious about writing and want to publish.
This is especially true for Christians, who are often writing as a ministry rather than as a profession. Building an author platform is a low-cost way of spreading the message God has given us. We don't need to publish the next Christian bestseller for our writing to be used by God. It could be enough to start a blog.
How do I build my platform?
Google "how to build an author platform" and you'll get thousands of answers. Some advice is free; some will cost you hundreds of dollars. A lot of the advice assumes you already have a website, social media accounts, and that magic 10,000 people on your email list.
It's great advice—but it's not actionable or relevant for a new author who doesn't have a platform, and has no idea where to start.
That's where the Kick-Start Your Author Platform Marketing Challenge comes in.
The Challenge is designed for writers who don't already have a platform. The Kick-Start Your Author Platform Challenge could be right for you …
If you know you need to start building your author platform but have no idea where to start.
If you have a blog and a couple of social media accounts but don't know what to do next.
If you have a website, but aren't sure if you're on the right track.
What is the Kick-Start Your Author Platform Marketing Challenge?
I'll send you an email each day for 40 days. The first five emails each week will explain some aspect of building a platform, and will have a series of tasks to complete. Some tasks will directly build your platform. Others will build your skills. Some tasks are quick and easy, while others take more thought or effort.
There will be a catch-up day each week, and a day of rest and contemplation. Sign up on the day that best suits your weekly schedule.  If you sign up on a Monday, your catch-up and rest days will be Saturday and Sunday.
We will cover:
What is marketing?
Understanding Your Brand
Know Your Genre
Know Your Target Reader
Design Your Visual Brand: fonts, colours, author photo, website logo
Create and Brand Social Media: Facebook, Instagram, Pinterest, Twitter
Create a Social Media Plan
To Blog or Not to Blog?
Create a Mailing List
Set up, design, and configure your website
You're not doing this on your own.
Participants can join a private Facebook group where you can discuss your progress on tasks, ask questions, share your successes, and encourage each other. I'm in the group most days to offer feedback and answer questions.
You'll also get a downloadable PDF workbook to help you track your progress.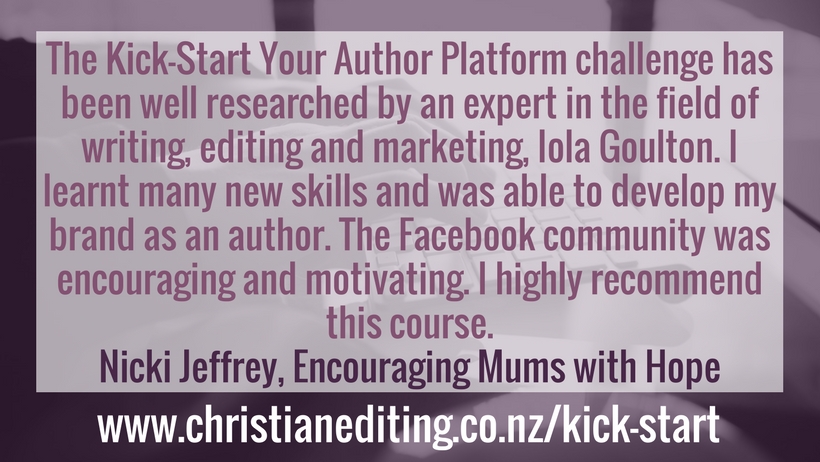 The Challenge lasts 40 days, although you can take as long as you want to complete it.
Is the Challenge only for Christian fiction writers?
No. What's Christian about this challenge is that I am a Christian, I mostly read Christian fiction, and I mostly edit fiction by Christian writers. Many of the examples I use will be Christian fiction authors—because that's what I know best. Other examples will be general market writers—fiction and non-fiction—if that's what best illustrates a point.
The principles of building a solid author platform are the same no matter whether you write fiction or non-fiction, books or magazine articles (or blog posts!), whether you're writing for the Christian market or the general market, and no matter what your faith.
Will joining the Kick-Start Your Author Platform Marketing Challenge get me an agent or publisher?
No. Signing up isn't enough. You're going to have to do the work.
Even having a platform may not get you an agent or a publishing contract. It won't hurt, but there are more factors at play in getting a publisher to invest thousands of dollars in your book. Like whether you can write, whether they see a gap in the market for your book, and whether they believe they can make money off your idea.
An author platform isn't a quick-fix solution to a problem like getting an agent. Building an author platform is playing the long game. It's investing in yourself and your future as a writer.
What do I need in order to sign up and participate?
Not a lot. You're reading this online, so I figure you have access to a computer and an internet connection. You'll need an email address, because the Challenge is delivered via email. You'll need a debit or credit card you can use online (to pay for the course, and to pay for some of the services I recommend).
You'll also need a desire to learn, and a willingness to take action. No one can build your author platform except you.
How much will it cost?
Enrolling in the Kick-Start Your Author Platform Challenge is $69 (USD), payable via PayPal. If you're based in New Zealand, please contact me for a New Zealand dollar GST invoice, and my local bank account details.
Building your author platform is going to require an investment of your time and money.
I recommend authors have a self-hosted WordPress website (I explain what that means and why I recommend it in the Challenge). If you take this approach, you'll need to buy your domain name and hosting. You can get hosting from $2.95 per month if you're prepared to pay for a year or more up front. You can also pay monthly, but that costs a little more. Domain names sometimes come free with hosting, but you might have to pay if you want a premium name.
I recommend some paid WordPress plugins to help your website run smoothly. These are products I use myself, products that have been recommended to me by people I trust, products which I believe are worth the investment.
I also recommend other selected products and services. Most have free and paid options, which gives you the opportunity to try it out and decide if you want to invest in the paid version (the paid versions generally have more or better functionality, and can often save you time).
Can I find this information elsewhere?
The Kick-Start Your Author Platform Marketing Challenge isn't the only platform building course available. I've found several other courses, but they are all more expensive, and many assume you already have a website and social media presence. I don't.
There is also a lot of information available free online … if you know where to look, and how to sift the good information from the not-so-good (and the 100% illegal).
With this Challenge, I've done the sifting for you.
I've utilised my degree in marketing and the knowledge gleaned from years of building my own author platform to develop this Challenge. While every author platform is unique, the Kick-Start Your Author Platform Marketing Challenge takes the key platform elements used and recommended by top authors, and breaks them down into manageable and achievable steps.
And I'm not just telling you what to do. I'm telling you how to do it (or providing links to great free content that shows how better than I could … which helps keep the cost of the course as low as I can make it).
I've done this. You can do it too.
Who is Running the Kick-Start Your Author Platform Marketing Challenge?
Maybe I should have introduced myself first …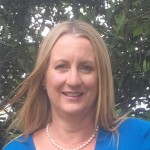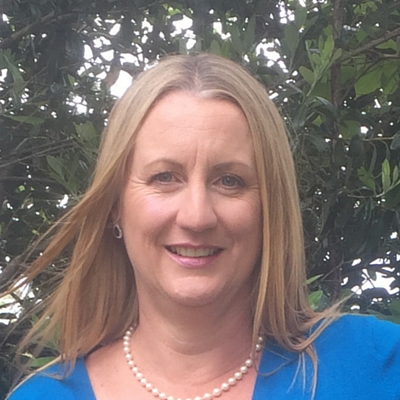 My name is Iola Goulton (it's pronounced yo-la, not eye-ola. Yes, that first letter is an "i" not an "L"). I'm a reader, writer, reviewer, and editor. I read widely across most Christian fiction genres, review at www.iolagoulton.com, and write contemporary Christian romance with a Kiwi twist (although that's currently an exercise in procrastination as I psych myself into the revising and editing phase). And I edit, through this site.
I hold a degree in marketing, and have a background in human resource consulting. I post regularly on my website, am active on social media, and contribute to two group blogs: Australasian Christian Writers, and International Christian Fiction Writers. I'm also the Zone Director for the Beyond the Borders zone of American Christian Fiction Writers (Beyond the Borders covers everyone who doesn't live in the USA).
When I'm not working, I'm usually reading or writing my next book review. I live in the beautiful Bay of Plenty in New Zealand (not far from Hobbiton) with my husband, two teenagers, and one cat.
No, I'm not a world-famous author, I haven't previous edited a big-league magazine, or run a major publishing company. I started like you: with nothing. But I had a computer, an internet connection, a desire to write, and a desire to learn. I've learned how to build a platform, one step at a time, through years of research and practice. And I can teach you.
Together, we can take those first steps to investing in your future as an author: by building your author platform.
Any questions? Drop me an email via the Contact page.