I recently saw a comment in one of the Facebook groups I'm a member of. A fiction author was asking about editing standards in relation to her recently released first novel.
As it happened, I was in the middle of reading her book when I saw the Facebook comment. I'd bought it after she mentioned it in her regular email (yes, email newsletters do sell books). I hadn't read much before I realised it was a typical self-published novel, in that the author had rushed to market, and skipped several levels of editing (I discussed the levels of editing in last week's post).
She's not a bad writer. In fact, she's a very good writer. She's been writing non-fiction for a long time. She has non-fiction books published, as well as hundreds of blog posts and newsletters. As a result, her writing is succinct and understandable, with no major grammar or punctuation glitches. That's more than I can say for many first-time self-published authors.
I understand the author has a MFA in (I think) creative writing. That shows. Her plot and structure are solid. There are goals. There is conflict. There are strong characters, with plenty of faults. This definitely isn't the work of someone who decides to write and publish a novel on a whim, to tick an item off their bucket list.
But my experience of MFA and similar programmes (my limited experience, mostly based on the blog posts and books I've read by people who say they are MFA graduates) is that they focus on literary fiction. But this author is writing genre fiction. It's different. Just as fiction is different from non-fiction.
Based on what the novel, it's obvious that neither the author nor her editor are regular readers of fiction in general, or the specific genre she's writing.
In other words, the author didn't hire the right editor for this project. Why do I say that?
Most fiction is edited to the standards set in the Chicago Manual of Style (the style manual I'm most familiar with). The other major style guide is AP (Associated Press), which is the accepted manual for journalism and a lot of non-fiction. I suspect this author (and/or her editor) has used AP.
The grammar and style in this novel is correct for non-fiction, but not consistent with what I usually see in fiction.
For example, fiction rarely uses parentheses. I'd say "never", but I can remember one of the last thousand books I read used parentheses (no, I can't remember which one). As you can see, I use parentheses all the time in blog posts and non-fiction. But novels do not use parentheses.
There were also a lot of colons and semi-colons in the novel. They were all used correctly. But I can't remember ever seeing a colon in a traditionally published novel, and I only rarely see semi-colons. That's a small example, but it shows neither this author nor her editor truly understand fiction.
Those were the two potential issues I noticed first.
I wasn't looking for errors—even though I'm a freelance editor, I try to ignore editing issues when I'm reading for pleasure (or reading a review copy).
But then I read the Facebook post about the novel having errors, and I started noticing more errors (no, I didn't keep count). I found sentences with missing words (which a copyeditor or proofreader should have picked up).
I found sentences which weren't bad, but which could be stronger.
A line editor or copyeditor would have commented on those sentences. A developmental editor would have let the weak writing pass, on the assumption those sentences would be worked over later by the line editor. A proofreader would have let the weak writing pass because proofreading is about checking the final copy for correctness, not for making changes to the text.
There are also developmental issues that need to be addressed.
The biggest was genre. As I said, I bought the book based on a promotion in her non-fiction newsletter. The newsletter advertised the novel as clean romance. "Clean romance" means a general market romance novel with no overt sexual content—similar to the Harlequin Mills & Boon Sweet Romance category romance novels. There is no sex, but there are also no overt Christian or other faith-based elements.
Yet this novel has clear Christian elements to it , in that the hero has recently become a Christian and is determined to turn his life around. That's great … in a Christian romance. It's going to annoy readers looking for clean romance (many of whom are looking in the clean romance category specifically because they don't want a faith-based plot).
So it was Christian romance rather than clean romance.
But it didn't entirely read like a romance. The beginning read like women's fiction with romantic elements, in that the first few chapters were just the heroine. A romance would typically introduce the hero early in the book. Then we got introduced to the boy next door, the heroine's childhood sweetheart. I figured he was the hero … but he wasn't. The hero was the other guy (the new Christian).
This isn't good. Romance readers want to know which characters to like and to follow. Introducing the Other Man before the Hero confused the issue, and meant I wasn't sure which guy to like and which guy to loathe.
Overall, it wasn't a bad book. But it could have been better.
This book illustrates why it's important to hire editors who don't just understand the mechanics of grammar and punctuation, but also understand the genre you're writing, and the reader expectations of that genre.
I suspect this author used the same editor she uses for her non-fiction books. But her novel illustrates the importance of not just hiring a solid editor, but hiring the right editor for this book.
The right editor isn't just an editor. The right editor is a teacher and a coach, someone who will gently point out the mistakes and improve the novel on a macro level, not just make it right at the micro level. The right editor for this project needs to understand more than the rules of punctuation and grammar. The right editor needs to understand fiction in general, and the specific genre.
The right editor understands the genre of this book.
Which might mean hiring different editors for different books.
What do you think? Do you write in more than one genre? Do you hire different editors for different books?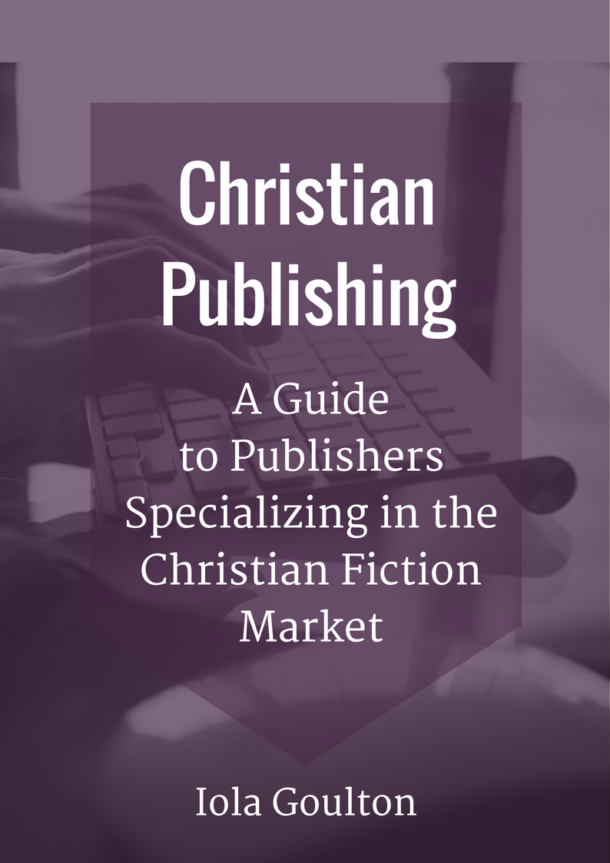 Subscribe to my monthly newsletter and receive an exclusive guide to publishers specializing in Christian fiction.
Sign up to my newsletter, and I'll send you monthly news and updates on writing, editing, publishing, and marketing, and relevant promotional material. I won't send spam, and you can unsubscribe at any time. Please read my Privacy Policy for details: www.christianediting.co.nz/privacy-policy