Authors (and readers) woke up over the weekend and found that thousands of books had disappeared from the Amazon store.
Only they hadn't. Really. Except they had. Let's take a look …
Here is the paperback version of Solo Tu by Narelle Atkins on Amazon.com: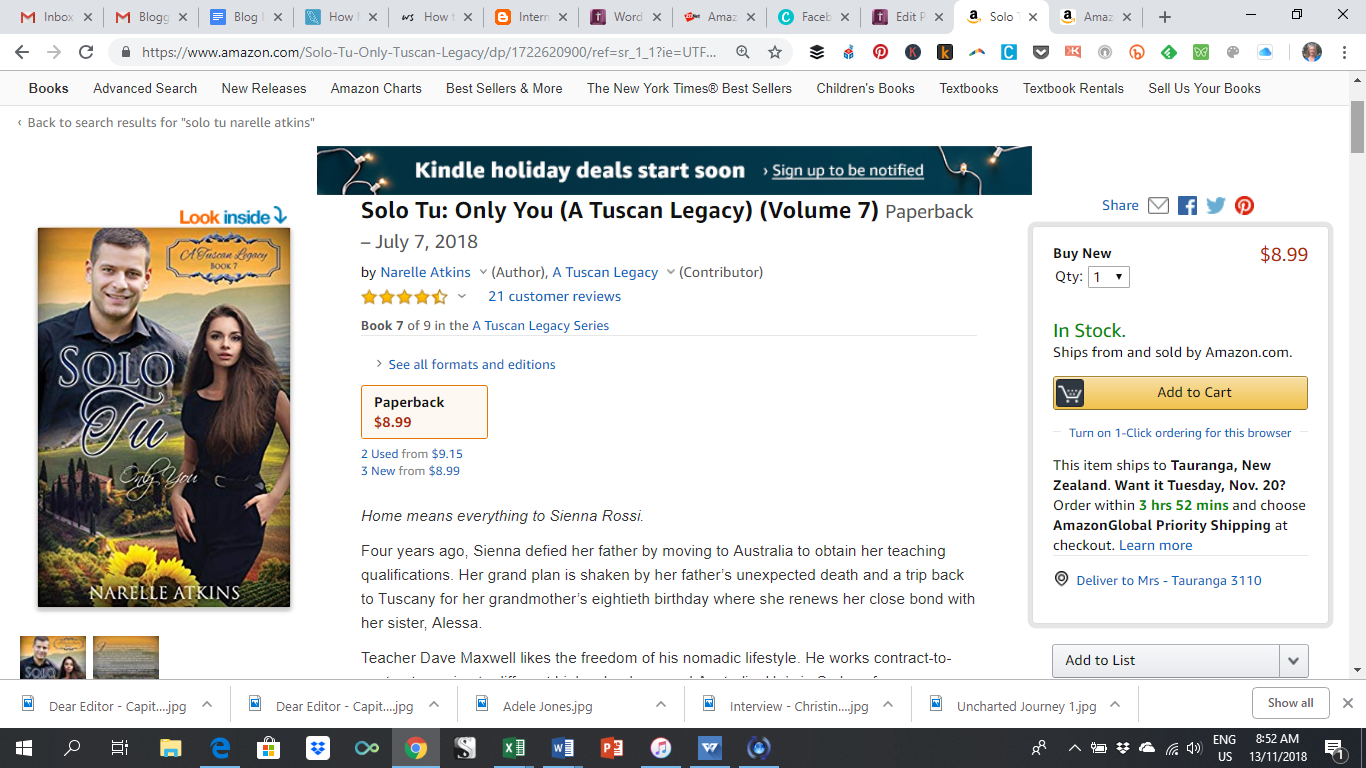 It's USD 8.99, which is around NZ 13.36 (or NZD 15.36 including sales tax). Here is the sales page on Amazon Australia: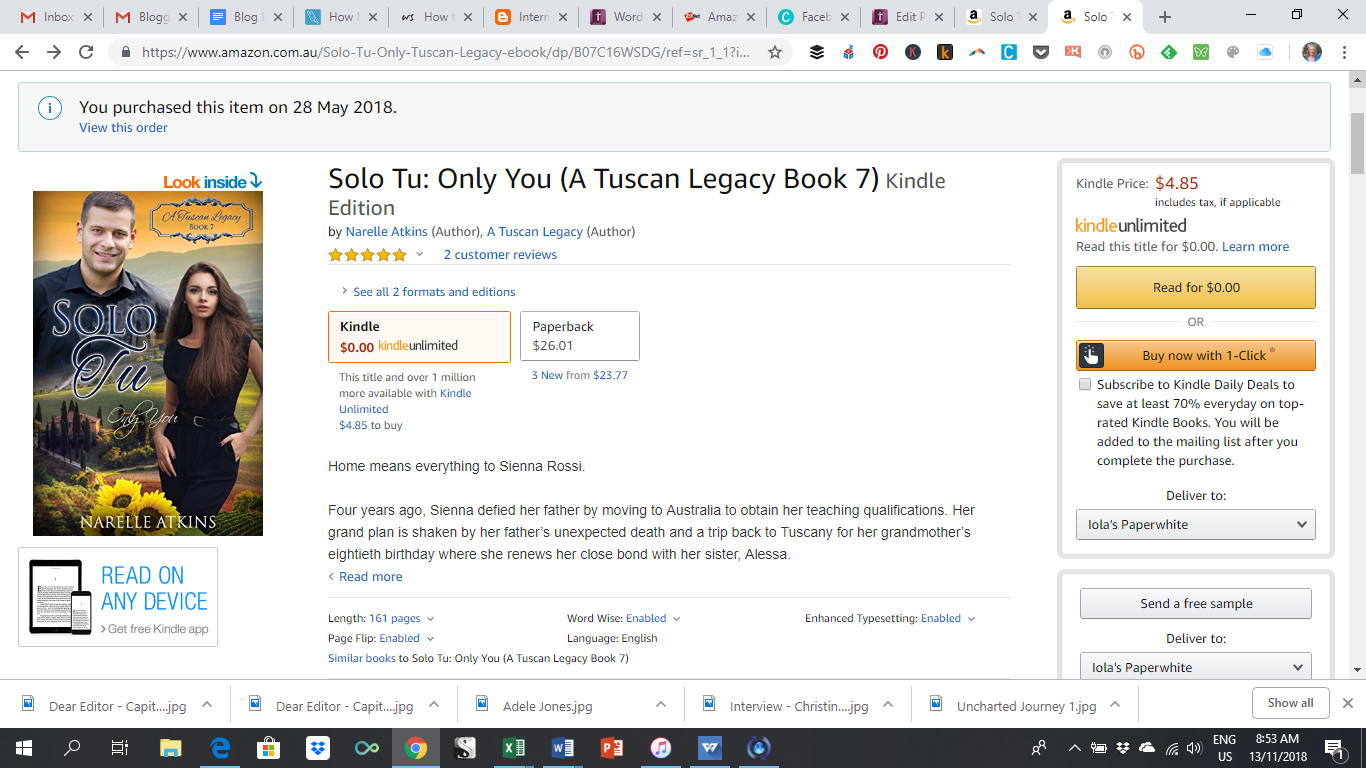 Note the price difference for the paperback? That $26.01 is a lot more expensive than buying the equivalent book from Amazon US, even allowing for New Zealand sales tax (GST) and exchange rate differences.
And what do I get I search for the same book on Amazon US? Nothing. That's right. Nothing.
But if I go back to the Kindle sales page on Amazon Australia and tweak the website address to read ".com" instead of ".com.au", here's what I get:
Voila! The Kindle version is for sale. But I can't buy it, and I can't see the price.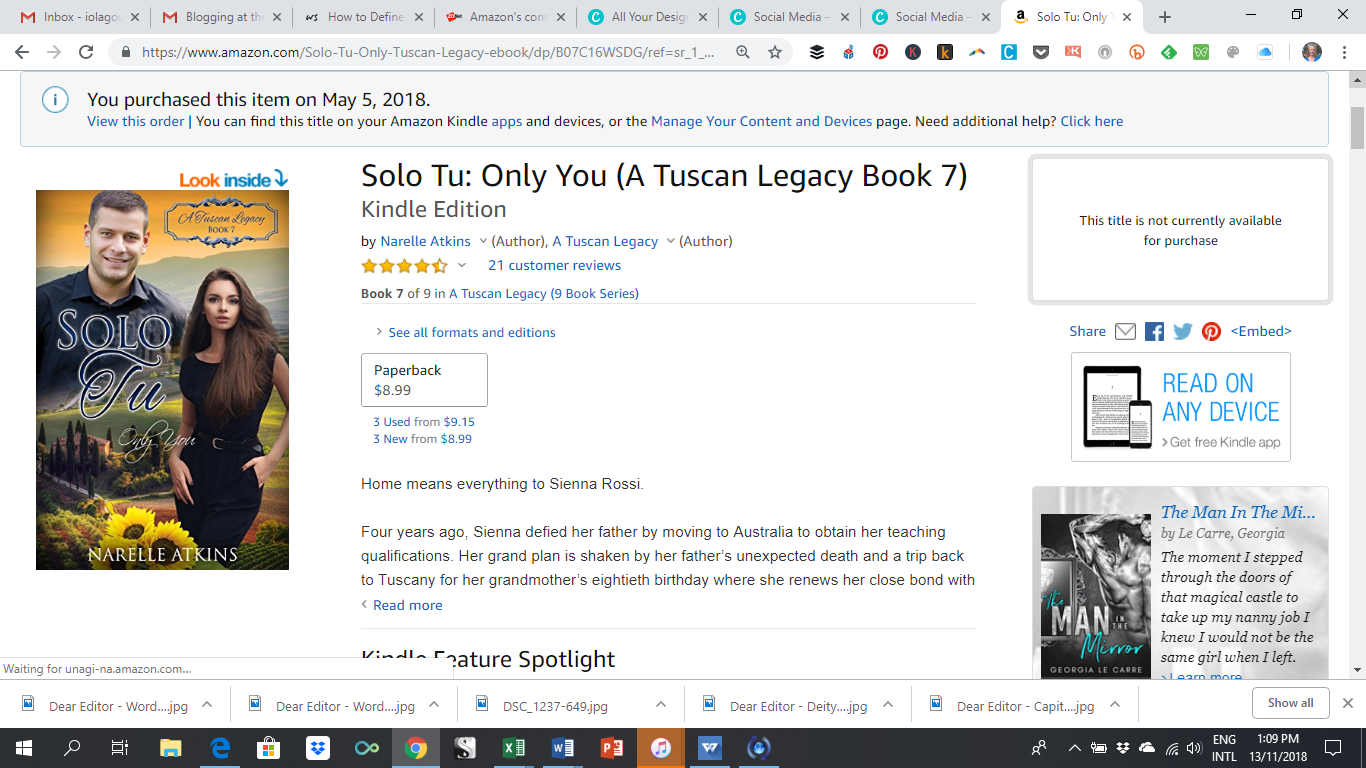 Amazon geoblocking is a half-baked solution to a non-problem which many authors are blaming for huge losses in income … which makes sense. How can Amazon customers buy or borrow books that don't exist?
Update
I can now see Solo Tu on Amazon.com again, and it's available to buy. Let's hope it stays that way, because I don't want to be forced to move … as I explain below.
What is causing this?
There are currently two theories making the rounds. It could be that both are correct:
Amazon is having database troubles.
Amazon is using geoblocking to force customers to buy from their "local" store.
Amazon is having database troubles
It's no secret that Amazon's cloud databases are built on Oracle systems. It's also no secret that Amazon have announced they'll be moving away from Oracle by the end of 2020. Apparently, Amazon made a big shift in their databases on 1 November 2018, and the theory is this has messed with a lot of books.
This may be related to the problems with the recent move from CreateSpace to KDP Print. This is a move that's been anticipated for a couple of years. It finally happened in September, with all authors forced to make the move.
But it isn't only KDP Print or KDP Select books that are affected. Books from major trade publishers are also affected, although those seem to come and go. Two days ago, I was unable to buy the Kindle version of Transcription by Kate Atkinson at the Amazon US store. Today, I can.
Amazon is using geoblocking to force readers to buy from their country stores
Yes, I understand the financial rationale. If Amazon goes to the trouble and expense of setting up a Kindle store and/or a physical distribution centre in a country, then they want customers to buy from that store, not from the US store. There is also the teeny tiny issue of the Australian government believing Amazon should pay sales tax on sales made in Australia to Australians, but let's leave that to the side for the moment.
But geoblocking (restricting access based on the users IP address) isn't the answer. Forcing readers to buy from "local" isn't what's best for the customer. If shopping from Amazon Australia was best for me, don't they think I'd have switched years ago? This behaviour makes a lie of Amazon's stated position as "Earth's most customer-centric company".
But Amazon geoblocking isn't good for customers who buy books.
And anything that isn't good for readers also isn't good for authors, because it encourages people to read less, or to buy other books (you know, books Amazon.com will actually sell them). Or it gives them (me) the push they've needed to check out another ebook store, such as Kobo or iBooks. Or to actually work out how to borrow ebooks from my local library.
As I see it, readers appear to have four options:
Give in to the geoblocking and switch to the local Amazon store for Kindle purchases.
Work around the geoblocking and wwitch their default address to a US address (e.g. Amazon HQ).
Do nothing.
Buy from Kobo or iBooks.
I've discussed these briefly in Where Have All the eBooks Gone? at International Christian Fiction Writers. But here I want to go into more detail about why the obvious answer—switching to the local Amazon store—is not a viable option for many Amazon customers. It didn't take me long to come up with 13 reasons why. Or why not:
Existing Kindle Library
More Variety
Better Sales
eBook Gifting
Gift Cards
Giveways
Reviews
Currency Conversion
Affiliate Links
Embed Codes
Kindle Family
Audible Subscriptions
Other Subscriptions
Existing Kindle Library
Switching from Amazon.com to Amazon. com.au means customers run the risk of losing access to their Amazon.com purchases. It shouldn't happen, in theory, but I've heard of people having their entire Kindle purchase history wiped, so anything is possible.
Last time I checked, my Amazon.com purchases didn't show. Now they do. Amazon assures me it's to my benefit to change, but I disagree.
More Variety
Amazon.com has a wider variety of Kindle books available. Well, it did last week. It still does—it's just I can't buy most of them from Amazon.com. I've seen many complaints that customers can't buy specialised books in the Australian store.
Better Sales
A lot of sales are only available at the US site, including free downloads.
Note that only US and UK residents can benefit from Kindle Countdown deals, which is annoying. But switching to Amazon Australia won't get me Countdown deals either, so that's a moot point.
ebook Gifting
Amazon US allows ebook gifting. The Australian site does not. You can check this in the screenshots above: the US site has a "Give as GIft" button below the buy button. This is missing from the Australian site.
Many authors, influencers, and bloggers (including me) like to be able to gift Kindle books to friends, fans, or contest winners.
Gift Cards
Amazon US allows customers to buy and give away gift cards. Authors, influencers, and bloggers often use gift cards as an incentive to get readers to perform some action e.g. comment on a blog post, or write a review (but not an Amazon review, as that would be against Amazon's reviewing guidelines).
Giveaways
Amazon US allows customers to give away books as a promotional tool. Amazon Australia does not offer this feature.
Reviews
Customers have to spend USD 50 per year on an Amazon site in order to be able to review (something I've previously discussed). If I'm forced to move from the US to the Australian site, the time will soon come when I'm no longer able to review on the US site. Reviews have more visibility on the US site, and book promotion organisations require a minimum number of Amazon US reviews before they'll promote a book. Restricting reviewers will make that target harder to meet.
Currency Conversion
Many Amazon customers are also Amazon affiliates or Amazon sellers. It makes sense for them to shop in the same currency they earn in. For most people, this is US dollars, because Amazon.com is the biggest store.
Affiliate Earnings
I'm an Amazon affiliate, which means if you click one of my links and buy something on Amazon, they'll pay me a commission of around 4% for referring you as a customer. I don't earn a lot in affiliate income, but what I do earn is paid out as Amazon US gift vouchers. I could get paid direct to my bank account, but the minimum payment is higher and much of it would be taken as fees.
I've also signed up for the Amazon Australia affiliate scheme. It only pays out to Australian bank accounts … which I don't have, because I'm not Australian. Because Australia and New Zealand are different countries. Like the United States of America and Canada are different countries. It seems Amazon doesn't understand this relatively simple fact of geography.
Embed Codes
Amazon offers embed codes so bloggers can embed a sample of a book on their blog post, like this:
This embed code was copied from the Australian website, but leads back to the US site. That's great for US customers, but means there is no incentive to switch to Amazon Australia.
Kindle Family
I don't use Kindle Family, but it is a scheme which allows family members to effectively share a Kindle account. There is a catch: the family has to live together and shop at the same store. So if one family member tries to tell Amazon he or she lives in the US (to be able to access the US store), then the Family is broken and they can no longer share the account.
Audible Subscriptions
Audible (Amazon audiobook) subscriptions are still on Amazon US. Yes, customers can transfer them, but that's an added hassle, and one more place for things to go wrong.
Other Subscriptions
Some Amazon users subscribe to newspapers or magazines through Amazon US. I saw one person complain that when they tried to switch to Amazon Australia, they were warned their subscription would no longer be available.
So there you have it.
13 reasons why Amazon.com's international customers will be reluctant to shift to their local store. I'm sure most international customers will be affected by at least one reason—and that's only the impact of shifting as a reader.
Of course, there is always the possibility that this geoblocking is a temporary accident, an unintended side-effect of Amazon's database upgrades. I hope so. Because there are at least 13 reasons why geoblocking is a bad idea for international customers.
Are you affected by Amazon's new geoblocking? Are you planning to shift or stay? Why?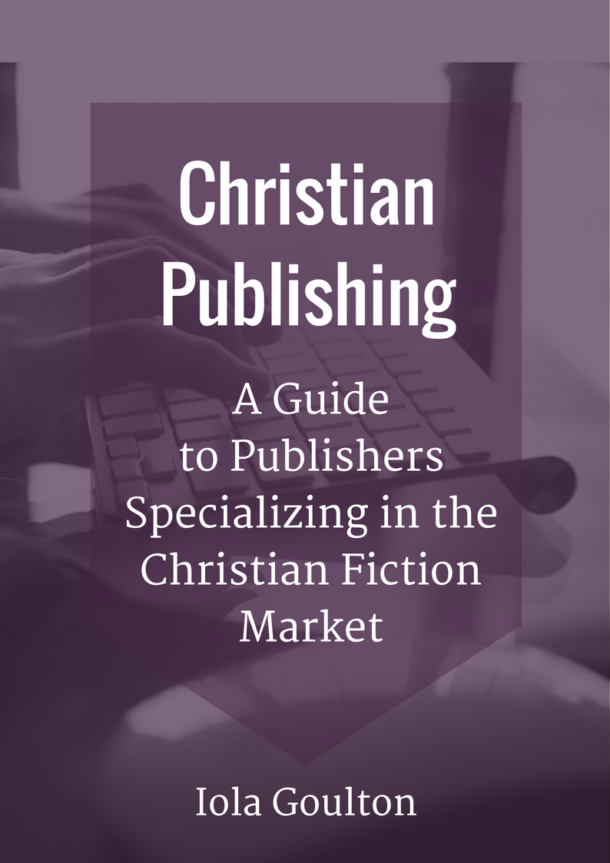 Subscribe to my monthly newsletter and receive an exclusive guide to publishers specializing in Christian fiction.
Sign up to my newsletter, and I'll send you monthly news and updates on writing, editing, publishing, and marketing, and relevant promotional material. I won't send spam, and you can unsubscribe at any time. Please read my Privacy Policy for details: www.christianediting.co.nz/privacy-policy