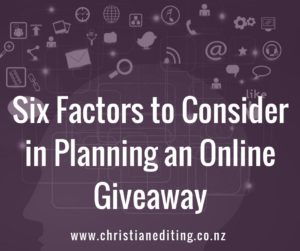 Have you ever wondered what's involved in planning an online giveaway? Or how to run a giveaway?
Over the last three weeks, I've published a series of blog posts at Australasian Christian Writers. The subject has been email lists and author cross-promotions:
Today I'm going to share six factors to consider in planning an online giveaway.
1. Consider Your Strategy
Just because I've been extolling the benefits of online giveaways and multi-author cross-promotions doesn't make it the right tool for you.
The best cross-promotion opportunity for you might depend on your overall marketing strategy. A multi-author cross-promotion to encourage newsletter signups is going to be of little use if you don't have an email list (although it might be the prompt you need to start one).
Ask yourself: Is this opportunity consistent with my overall marketing strategy?
2. Consider Your Brand
With a one-on-one cross promotion with another author, you are effectively endorsing that other author by recommending him or her to your readers. You need to make sure the author is one you want to endorse, in order to protect your own brand—otherwise, you might find yourself in the awkward situation of losing readers if they have an issue with the author you endorsed.
You might need to consider:
Genre
Content (language, violence, sexual content)
Quality of the writing and editing
Size of audience—you want the other author to have a similar-sized audience to yours
This is less of an issue with a multi-author cross-promotions, as most allow readers to choose which specific author lists they sign up for.
Ask yourself: Is this promotion opportunity consistent with my author brand?
3. Plan Your Giveaway
You'll need to promote the giveaway to your existing email list, and via your social media channels. You'll also need to meet any group expectations and requirements in a multi-author cross-promotion. How are you going to do that? Can you schedule a series of social media posts in advance?
Ask yourself: How will I promote this giveaway?
4. Plan Your Follow Up
Will your new subscribers be automatically added to your email list, or will you have to add them manually? How are you going to do that? What are you going to do with your new subscribers? Are you going to let them languish on some forgotten list … or are you going to follow up with them right away? Do you have a free download for them, to encourage them to stay on your email list? How are you going to send that to them? Do you have time to individually follow up every email?
This may mean setting up an auto-responder sequence to automatically send a short series of emails to every new subscriber. This needs to written and actioned before the giveaway begins. Note that auto-responder emails aren't a free feature of most email providers. I'm told they are free with MailerLite, but that tool doesn't automatically integrate with Instafreebie–so you'll have to send the emails manually, or pay for a provider like MailChimp.
But the beauty of a pre-prepared auto-responder sequence is once you set it up, it's there for any future promotions.
Ask yourself: Can I easily set up the appropriate follow-up emails?
5. Consider During the Giveaway
The reason I recommend setting up the social media schedule and auto-responder sequence in advance of the giveaway is that you're likely to get a lot of emails during the period of the giveaway (unless you've paid someone else to organise the giveaway for you).
The host of the multi-author Instafreebie giveaway I participated in reported receiving a lot of emails from people who didn't know how to transfer the file Instafreebie emailed them to their ereader device. Fortunately, she had a relevant YouTube video, so she was able to respond to enquiries by sending the link.
I ask several open-ended questions in my auto-responder email sequence, and several people emailed me with answers … and more questions. Each question was unique, so each response took time (although I will later repurpose several of my answers as blog posts!).
Ask yourself: Will I have time to follow up on individual emails and requests?
6. Consider After the Giveaway
Once you've run your giveaway (or participated in a multi-author giveaway), you'll need to find some way of delivering your books to the winners—if this doesn't happen automatically (e.g. via Instafreebie).
You can:
Email the book directly to the winner e.g. epub, mobi or pdf file. Some authors are hesitant about this, because an unscrupulous winner could email the file to their 5,000 closest friends.
Gift them the ebook via Amazon, Smashwords or some other online retailer. This is safer, but does cost you money. And you might be unable to gift via Amazon—or the winner might be unable to accept the gift if they're not on Amazon US.
Use a third party such as BookFunnel, Instafreebie or NetGalley.
BookFunnel
BookFunnel is a way of distributing ebooks to bloggers, influencers, reviewers, and street team members. It can also be used to distribute ebooks to your email list. You load up your book in ePub and mobi formats, and BookFunnel creates a link to that book. This can be a unique link for each reader (e.g. for a review team), or a general link.
Prices start at USD 20 per year for the Basic plan. This allows authors to upload up to five books with one pen name, and delivery of up to 500 books per month. This does not include giveaways or MailChimp integration. The Mid-List Author plan is USD 100 per year, and includes giveaways, unlimited books, and up to 5,000 downloads per month. MailChimp integration costs an additional USD 50 per year.
BookFunnel is similar to InstaFreebie, but will provide readers with assistance to get their book delivered to their device.
However, it doesn't promote giveaways in the same way as InstaFreebie does—it relies on you promoting your book in order to get people to sign up to your email list.
NetGalley
I've blogged previously about NetGalley. One of its features is the ability to email a widget that allows the recipient to download the ebook in epub or mobi format. However, NetGalley is expensive, so this is probably only an option if you or your publisher are already paid-up members.
Ask yourself: Do I need to invest in any tools to manage this giveaway?
What else might you need to consider in planning a giveaway?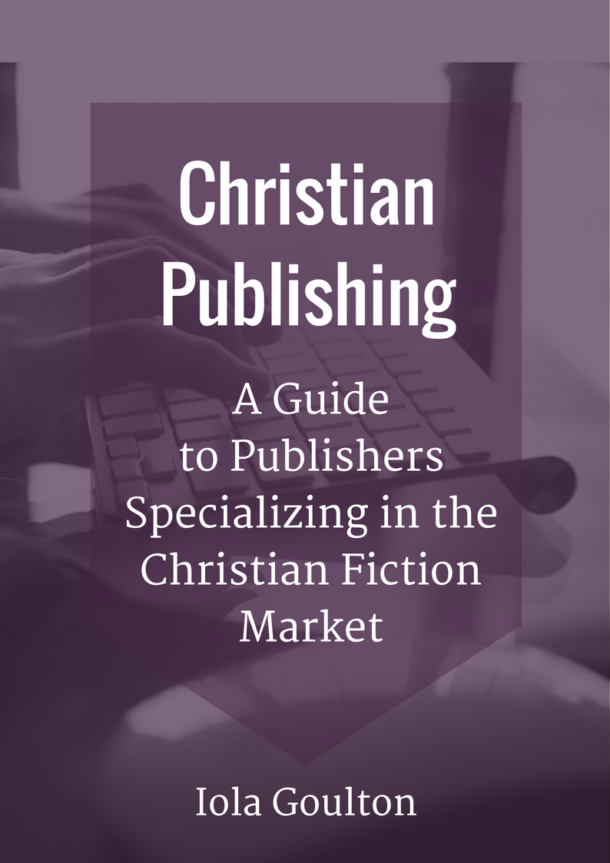 Subscribe to my monthly newsletter and receive an exclusive guide to publishers specializing in Christian fiction.
Sign up to my newsletter, and I'll send you monthly news and updates on writing, editing, publishing, and marketing, and relevant promotional material. I won't send spam, and you can unsubscribe at any time. Please read my Privacy Policy for details: www.christianediting.co.nz/privacy-policy