Best of the blogs: the best posts I've read this week on writing, editing, publishing, and marketing.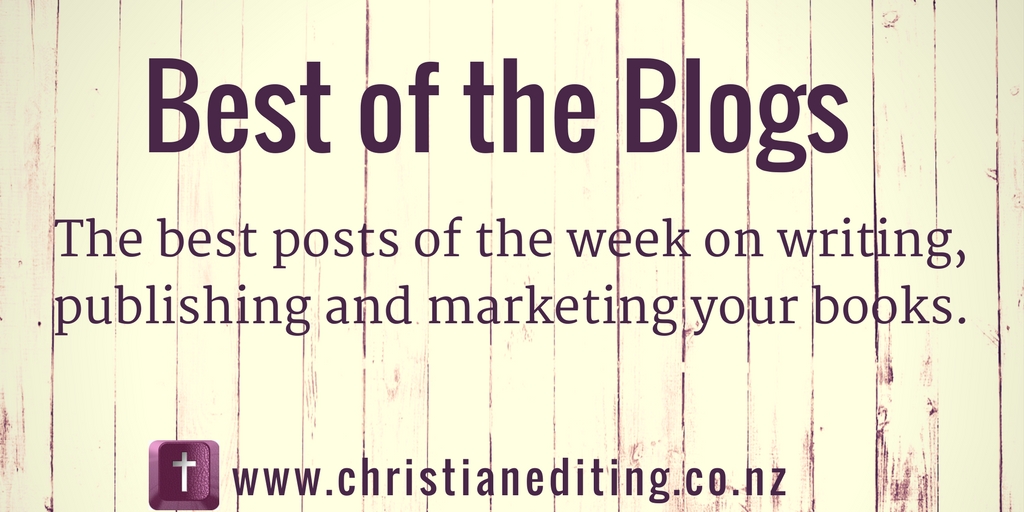 Writing
Plot vs. Character (the Rematch)
Last week I shared a blog post from James Scott Bell on why plot is more important than character. This week, Kristen Lamb takes the opposing view: that Character Determines Plot.
Discover Your Writing Voice
Jeff Goins tells us that the way we discover our writing voice is by reading and copying others. Lots of others. Who do you copy?
Editing
Do you use editing tools? I tried Grammarly for about a week, and while I liked the idea, it's an online programme … which means it slowed down Word too much for me to work with, and I couldn't use it at all when out of wifi range.
Anyway, April Bradley visited Writers Helping Writers to give an introduction to ProWritingAid, which sounds good–especially as it can apparently be used online, with Word, or as a separate desktop application.
Have you tried ProWritingAid? Do you recommend it? Read more here: ProWritingAid: A Useful Tool.
Publishing
Attorney Susan Spann visits Writers in the Storm to share 10 Questions to Ask before you sign a publishing contract.
I've covered several of these in Christian Publishing: A Guide to Publishers Specializing in Christian Fiction. If you don't already have a copy, sign up for my monthly newsletter and I'll send you a copy.
Networking
I'm an introvert, so I never felt comfortable networking in the corporate world. The writing and editing world suits me so much better, because it's full of introverts, and most of the networking is done like this, using the written word. This week, Kaye Dacus has a post on the importance of Networking for Building Name Recognition in the writing world—especially important in the small world of Christian fiction.
I've come across several other writers who have been published because of their connections, for better or worse. Romantic suspense author Dani Pettrey thanks Dee Henderson in her acknowledgements. Forensic thriller author Carrie Stuart Parks thanks her BFF's husband who coached her in writing until she earned a contract—a guy named Frank Peretti.
Marketing
Book Reviews
As a long-time Amazon reviewer, I try (try!) to keep up with what's changing in the world of Amazon reviews. In fact, it's something I must write a blog post on, because a lot of what I wrote in my last series of posts is now outdated. Anyway, here is Big Al at Indies Unlimited commenting on one of the changes: how customer reviews are displayed on Amazon.
Improving Your Reach
Nina Amir at How to Blog a Book posts on How to get Better Mileage Out of Your Blog Posts. Basically:
Deliver them in different formats (video, audio, written)
Make them shareable
Share your posts (you can automate some of this using a tool such as Buffer).
I haven't yet tried video or audio. Would you watch a Facebook Live question-and-answer session? Let me know in the comments. And add your questions!